For the last few years we've been using the P&O ferry from Hull to Holland for our summer holiday. The price of a UK break or holidays abroad during the school holidays are ridiculous but the Hull ferry is a very reasonably priced way to get abroad, something of a 'best kept secret' for holidays. The port is on our doorstep, you sail overnight there and back which adds 2 nights to your holiday, it's super easy and loads of fun!
I'm lucky that a good friend of mine who I used to live on Victoria Dock in Hull with was considerate enough to move with her job to Amsterdam, so we get a free place to stay in the city. For the last 4 years we've travelled on the Hull ferry to Rotterdam, visited her in Amsterdam then been to a Holland Centre Parcs (which are at least half the price of a UK Centre Parcs in August), you can read about our Centre Parcs trip on last year's blog here.
This year we decided to mix it up a bit and after hearing lots of good recommendations we went to Efteling, a totally magical place about 1 hours drive from the Rotterdam port! It's a mash up of Alton Towers, Sundown and Centre Parcs, apparently Walt Disney got his idea for Disney from there and it's also like Disney (but having not been to Disney I can't say if that's true, I can say it's a much better version of Alton Towers, Sundown and Centre Parcs though as I've been to those!).
So off we went, 2 adults and 2 children (age 5 and 8) on our summer roadtrip. We loaded up the car, drove the short drive to the port in Hull and boarded for our overnight crossing. You board around 5pm and we had dinner on the ferry, a good buffet style restaurant where you can eat as much as you like (my husband who eats a lot finds this one of the holiday highlights as they always have a curry counter and he refills several times!). In previous years we've eaten at home then driven to the port around 6pm to save money. Then there is a cinema, arcade or a small soft play area to use, or we had a stroll on the top deck to spot things like the Humber Bridge. The family entertainment starts at 7.30pm; first was a really good show 'Under the Sea' with dressed up characters singing songs, all with excellent voices, followed by a disco with the characters. We then listened to a story with 'Billy Bones' of Treasure Island and made some Treasure Maps in the craft corner. At 9pm the main show started with some excellent show tunes that had me singing along (although that could have been the gin and tonic). At 9.30pm my youngest was shattered so we all went back to our cabin, a snug and cosy fit for all 4 but my children absolutely love it. The bottom 2 beds are out ready but you pull down the top bunks when you are ready to go to bed and attach a ladder to get up.
The crossing was really calm and, even though my 8 year old and I both get travel sick, we felt fine and slept well. The captain woke us at 6am and we went for breakfast which we had in the buffet. There is also a Starbucks on the boat if you just want a coffee and light bite. I wasn't up for a full English buffet breakfast at 6.30am but my husband said it was great, I had fruit and croissants with the kids which were delicious. We docked bang on time at 8am, went back to our car and drove off into Holland (on the right side of the road!).
The roads are AMAZING! No traffic, all dual carriageways and no roundabouts/traffic lights, just easy to navigate slip roads and systems. We got to Amsterdam in about 1 hour 10 mins in the car (or if you go as foot passengers you get on the coach and it goes the same way and drops you in the centre at the station). Whatever you've heard about Amsterdam forget it, it is a very family friendly city. There is one street to avoid with the kids (!) and Dam Square and Leidseplein area is the bit that's full of stag and hen parties, but the rest is a beautiful network of canals and old buildings dotted with parks.
Last year we did the zoo which was the best zoo we've been to. There are some great museums and even a massive soft play under the streets in a disused station, TunFun.  Vondel Park is the biggest park and always a hit with my children, this year we hired bikes (a tandem for my youngest to share with my husband) and spent the whole day cycling around it and stopping at the various play area, cafes and, my children's favourite, the splash park (no pics as I hadn't taken swimwear and they went in in their pants like all the local kids!). We happened to be there over Pride weekend which also added to the excitement, we felt really welcomed, relaxed and partied along the canals watching the floats go by on the water, everyone celebrating being happy whoever you are (which is a good lesson to teach an 8 and 5 year old).
After 2 nights at our friends flat we continued on our road trip, firstly by getting a tram to the centre to pick the car up (most flats in Amsterdam don't have parking so we use the central station underground car park , 40euros for 48 hours and is the cheapest we've found if you drive to the city). We had a very easy journey down to Efteling, around 1 hour from Amsterdam (or 1 hour 10 mins from the Rotterdam port and ferry terminal). Efteling was simply amazing! A thoroughly magical experience.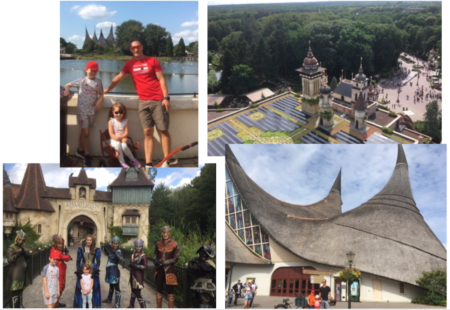 The park itself has various 'lands'; one with big rollercoasters, one with nice steady rides for kids like the swing chairs, carousel, ride on cars and pedal yourself trains, and one that is just a huge woodland full of fairy stories and mythical creatures; you would be walking along past Snow White's house then spot a talking tree. It was all immaculate too, the scenes were spotless and the park was very tidy and clean. Then there were several 'imagination rides' where you got onto a carriage and went on a magical tour, for example through a forest of elves and fairies, or through a castle, or (to the delight of my 8 year old and the horror of my 5 year old) a jungle with huge (plastic) snakes into an Arabian town. We clocked our steps and walked nearly 10km each day, 3 days in total (2 nights) and only just got around it all. Luckily there were little pull-along carts to put younger children in if they were out of a pushchair but not big enough to walk it all (ideal for my 5 year old!).
We stayed in the Holiday Village Efteling Bosrijk for 2 nights, a 10 minute walk into the park. You also got access the park from 9.30am to get on the rides without queuing (it opened to the public at 10am). We did queue for up to 40 minutes for some of the more popular rides during the rest of the day but we planned them by downloading the Efteling app which showed queue times so we went for quieter rides in the peak of the day or got a snack to walk through the queue with. We went Monday to Wednesday but they did tell us weekends were much busier with longer queues, so go midweek if you can.
The Holiday Village Efteling Bosrijk was also magical. You could stay in a chalet for several people or we got an apartment for the 4 of us, in a castle! The whole site is centred on a lake with a giant sandcastle in the middle where the Sandman lives; he comes out each evening to give children their dreams. The children's bedroom in our apartment (bunk beds shaped like a castle) had nightcaps hung on the edge which they could wear to let the Sandman know to visit. He was also telling stories in the restaurant which we used on the first night but in Dutch so I can't say if it was good or not! The restaurant which we dined in on our first night wasn't great and if I'd know our apartment had a fridge, microwave and sink I'd have taken food to make (or used the pizza delivery service which came to your door). Luckily I'd been to Aldi before we travelled for holiday snacks and had some chocolate croissants in the car which, when heated in the microwave, made a great breakfast in the apartment.
On our 2nd night we stayed in the park for tea and had a great meal. Food is so healthy in Holland. There were loads of food outlets in the park all selling things like freshly made sandwiches, salads and soups, there were even fruit stalls selling pots of fruit. Food wasn't expensive in the park and we had some really good lunches, snacks and the 2nd night meal in a pizzeria. I was comparing that to a trip we had to Alton Towers recently where there was only burgers or fried food outlets and all food cost a fortune!
After our meal we paid the 7.50euros extra each for a seat at the evening theatre show, Caro. This show was on a par to shows I've paid £30 a ticket for in the UK, it was amazing! A full production with clowns, acrobats, dancers and singers all telling a fantastic story, not in any language so we understood this one! I actually welled up at point it was so emotional (my 8 year old asked what was wrong with me, did I have something in my contact lens?). It ran 6.30-8pm with no interval but my 5 year old was captivated and didn't fidget or ask to go out (she lasted 20 mins at Hull Odeon watching Lion King the previous week before she declared she was bored and wanted to go for a walk).
After 2 nights and 3 days we loaded the car back up, less a lot of food and snacks, and drove the 1 hour 10 mins back to Rotterdam Europort. We chose to have tea on the boat so left Efteling at 4.15pm and boarded at 5.30pm, dropped the bags in the cabin and went to the buffet as it opened at 6pm. It doesn't sail until 9pm so you could board up to 7pm. After tea we went in the onboard shop which stocked a good range of toys and treats including Harry Potter merchandise, something my son just got into this before holiday (good job as Efteling was basically Hogwarts without any of the nasties and lots of nice fairies). We'd said if he was good all holiday he'd get a Harry Potter wand on the way back. He was actually very good (what a bribe!) so he got the wand, and has since annoyed me so much by pointing it in my face and stabbing his little sister with it he has had it confiscated.
Then we were back to the fabulous family entertainment from P&O, my daughter had drawn a picture for the seahorse character (her favourite) which we gave her and she was delighted. It was windier coming back, I'd been watching the trees sway more and more as we drove into Rotterdam and, as we set sail, the boat started to rock a bit. We took some travelsick tablets, watched the start of the main 9pm show then went to our cabin and all fell sound asleep to the rocking of the boat…only to be woken up again at 6am by the captain (de ja vu), only this time we had the hour on from the time difference and I was very much up for that full English breakfast!
We docked at 8am and were called back to our car, then we were straight off the boat and on the A63 by 8.45am (last year we queued a bit to get off bit this year we were straight off) and we were home by 9.10am! We sailed out Friday at 8pm so we didn't need time off work that week, had Friday night on the ferry, Saturday and Sunday night in Amsterdam, Monday and Tuesday night at Efteling and Wednesday night on the ferry again. My husband was back at work for 9.30am Thursday so only needed to take 3 days holiday time off work to get an absolutely amazing 6 night holiday abroad and definitely one of the best holidays we've been on.
I also think it was very good value for money, the full trip cost us just over £1050. The return journey on the ferry for 4 people in an outside cabin plus 1 car was £536. Our time at Efteling cost £514 which included 2 nights in our castle apartment and 3 days park passes for 2 adults and 2 children.
P&O ferries are fabulous; I think we're so lucky to have this departing every day on our doorstep and it's something we'll continue to do. Some evenings they have themed cruises where the show is unique (such as The Greatest Showman one coming up in November) but otherwise the entertainment you get for the price you pay is excellent. To board a ferry from our area and wake up on holiday is ideal, especially when travelling with kids, the travel adds to and is part of the holiday rather than being a chore you have to go through to get to your holiday. From Hull you can sail to Rotterdam as we did for all Holland destinations or to Zebrugge which takes you to Bruge, Belgium and into France. Next year we might mix it up again and try the Zebrugge route and go to a Belgium or France Centre Parcs. If you are looking for a reasonably priced holiday, especially in the school holidays, I'd thoroughly recommend this.
Find out more about the P&O Hull ferry on their website here.
Find out more about Efteling here.